Videos of Forum on Parallel File Systems for HPC now Online
The recordings of the last hpc-ch community forum on Parallel file systems for HPC are now online. More than 40 colleagues from all over Switzerland attended the forum. The videos of the 9 presentations give an overview of the state of the art in parallel file systems in Switzerland: The technologies being used, their pros and cons and the future plans.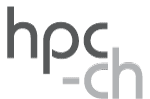 You can go directly to the web page with the videos »
or  continue reading this post to get a list of all presentations (click on the picture with the selected speaker to start the video).
Overview of HPC at ETH Zurich, Olivier Byrde (ETH Zurich)
Since ETH Zurich hosted the forum, we had an introduction to the HPC systems being deployed at ETH Zurich followed by a site visit. If you want an overview of Brutus, the large cluster running at ETH Zurich, than have a look to this presentation. If you are more interested on parallel file systems, than you can skip to the next one.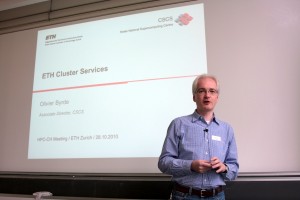 Parallel File System for Brutus; Teodoro Brasacchio and Adrian Ulrich (ETH Zürich/CSCS)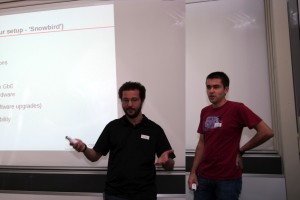 GPFS Use at the PSI Swiss Light Source; Heiner Billichs (PSI)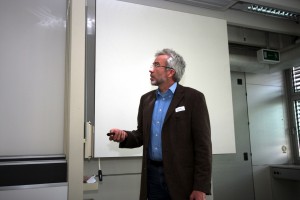 Parallel Files Systems at CSCS; Davide Tacchella (CSCS)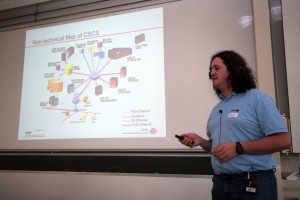 Disk Pool Manager Grid Storage Element; Szymon Gadomski (University of Geneva)
The software distributes abstract directories over multiple physical file servers and provides similar functionality to a distributed file system. We will present our experiences of the last 1.5 years and our performance measurements.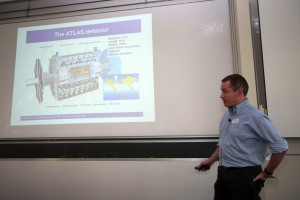 Finding the perfect filesystem for life sciences an impossible mission?; Roberto Fabbretti and Volker Flegel (Vital IT)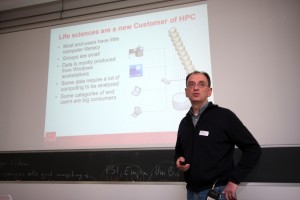 Experiences with Lustre in Bern; Gianfranco Sciacca (University of Bern)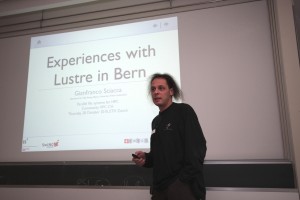 Lustre based I/O on Cray XT systems; Jason Temple (CSCS)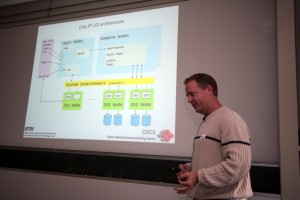 The planned European OFS Cooperative Society SCE; Christian Bolliger (University of Zurich)
After Oracle bought Sun and thus the rights on Lustre, the future development of Lustre on Linux for HPC is not ensured. Therefore several initiatives have been started to bundle the community efforts on Lustre. Among these is the plan to set up the "European-OFS-Cooperative-SCE" before end of the year. Some of the bigger HPC centers, like the Jülich Supercompting Center and the Barcelona Supercomputing Center as well as HPC vendors like HP, Cray and Bull and service companies are showing a deep interest in this initiative.