Last chance to REGISTER: hpc-ch forum on User-Centric View on HPC – Hybrid Event
DATE AND LOCATION

hpc-ch forum on User-Centric View on HPC
Thursday, October 6, 2022
Hybrid event

Campus Biotech
9 Chemin des Mines
1202 Genève
Room number H8-01-D: H8 (auditorium) 01 (1st floor)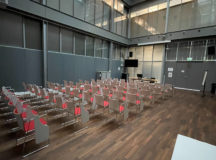 FORUM DETAILS
Introduction

Placing users at the centre of the design of HPC Infrastructure has been always a challenging effort. With the democratization of computational usage in different fields of biomedical science, rethinking and reshaping HPC is a necessity. Regardless of the context (large university supercomputer, small company cluster or anything in between), considering the usage before design or maintenance is even more critical. 
HPC resource mutualization is also an under-appreciated aspect from a user perspective. Balancing the needs and requirements for an efficient HPC infrastructure will be the central topic of this HPC-CH conference. 

Key Questions

In this hpc-ch forum we will discuss questions like:
How to understand your users' needs?
What impact does the usage have on the design and maintenance?
How to make different use cases co-hosted? (Single large parallel job versus many small jobs, or direct user versus automated software)
How do you teach your users? / How do the users teach you?
How to manage the compromise between usability and security
Program

The program is available here. Meeting material will be uploaded on the forum webpage after the event.
Registration

Registration is required for all participants.
The room capacity is limited therefore we invite you to register at your earliest convenience. Online participation is also possible. Information on how to follow the livestreaming event will be provided to registered attendees.
To confirm your attendance, please submit the registration form no later than Sunday, October 2, 2022. Click here to register now.
Community Dinner
A community dinner, generously sponsored by Health 2030 Genome Center, will be held on Wednesday, October 5, 2022, at Edelweiss Restaurant.
Participation is free, but registration for this specific event is mandatory. Forum participants who are willing to take part in the social dinner have to select this option during registration; availability is limited so early booking for the dinner is strongly advised.