ETH Zurich and IBM Rüschlikon Announce Aquasar
ETH Zurich and IBM Rüschlikon announced on May 6th that Aquasar is operational. Aquasar is an HPC system developed together by the two institutions using water to directly cool the integrated circuits. The water with a temperature of about 60 oC is used to heat the building of ETH Zurich. The goal of this research project is to reduce the energy footprint of computing systems: It is assumed that computers use about 5 to 10% of the electricity worldwide.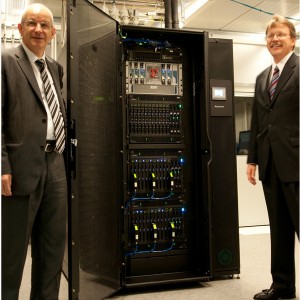 Prof. Ralph Eichler, President of ETH Zurich and Dr. John Kelly, Senior Vice President IBM Research, present Aquasar. (Foto: Michael Lowry, IBM Research – Zurich)
Aquasar has a computing power of 6 Teraflops and consumes about 20 kilowatt of electricity. Water cooling on the chip may be the big next step to build larger supercomputers and to go to Exaflops.
Read more about Aquasar on ETH Life »
or read the press release of IBM Research »