EPF Lausanne donates Blue Gene/L to university in São Paolo
On a six-day visit to Brazil with focus on science and health issues, Swiss Interior Minister Didier Burkhalter officially hand over the IBM Blue Gene/L supercomputer, donated by Lausanne's Federal Institute of Technology (EPFL), to Brazil's education minister.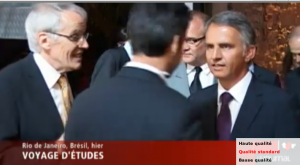 The supercomputer will be installed at the São Paulo University, Brazil's largest university. The machine, which is the equivalent of a network of several thousand ordinary computers, is capable of performing 46 trillion operations per second.
The supercomputer will be installed at the Edmond and Lily Safra International Institute of Neuroscience, one of Brazil's most innovative research institutes. The Blue Gene will be the first supercomputer in the southern hemisphere.
Link to Swissinfo: Burkhalter to hand over supercomputer in Brazil.
Link to the Western Swiss television channel TSR, Journal 19h30 (28 August) with a quotation of Patrick Aebischer: Le conseil federal Didier Burkhalter est en bresil pour developper la cooperation scientifique.