CSCS Announces Web Relaunch
On April 21 CSCS announced the relaunch of the newly designed CSCS web site. This redesign introduces a more up-to-date, dynamic layout, which will allow CSCS to better inform the public as well as the users about what is happening at the Center.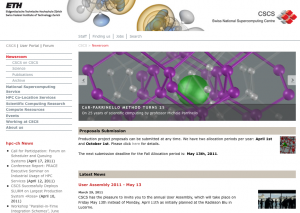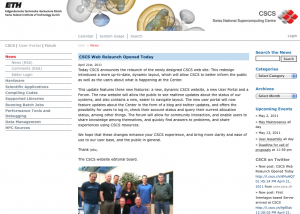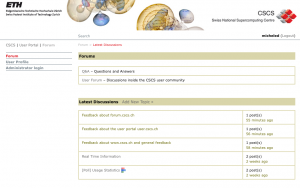 This update features three new features: a new, dynamic CSCS website, a new User Portal and a Forum. The new website will allow the public to see realtime updates about the status of CSCS' systems, and also contains a new, easier to navigate layout. The new user portal will now feature updates about the Center in the form of a blog and twitter updates, and offers the possibility for users to log in, check their account status and query their current allocation status, among other things. The forum will allow for community interaction, and enable users to share knowledge among themselves, and quickly find answers to problems, and share experiences using CSCS resources.
Visit the three sites:
www.cscs.ch – Centre home page
user.cscs.ch – User portal with blog, documentation and user data
forum.cscs.ch – Discussion forum for the user community
CSCS hopes that these changes enhance the CSCS experience, and bring more clarity and ease of use to the user base, and the public in general.