Cray's Gemini Interconnect Wins HPCwire Editors' Choice Award
Last August we presented Palu, the newest Cray XE6 installed at CSCS. Palu was part of a joint collaboration between Cray and CSCS, to enable CSCS and its user community to undertake testing and early familiarization with Cray's next generation hardware and software technologies.
At the 2010 Supercomputing Conference in New Orleans, LA,  Cray Inc.  announced that the Company's new Gemini interconnect used for Palu has been named "Best HPC Interconnect Product or Technology" by the editors of HPCwire as part of the publication's 2010 Readers' and Editors' Choice Awards.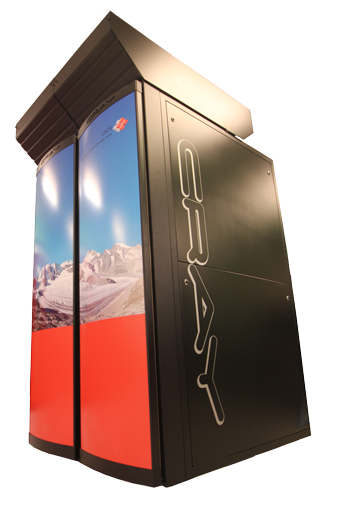 "With the advent of multi-core and many-core processors, there is now a critical need for powerful, scalable networks in order to make supercomputers efficient — it is what separates a supercomputer from a cluster," said Peter Ungaro, president and CEO of Cray. "We are dedicated to building the most scalable HPC systems available and our Gemini interconnect lies at the heart of these systems. The Cray XE6 and Cray XE6m supercomputers include a mix of features and performance designed specifically for the petascale environment, and it's all made possible by our Gemini interconnect.