PASC21 – New Year Wishes and Update on Event Format
New Year wishes
We hope that you and your loved ones enjoyed a peaceful and happy holiday time and wish you all health and a joyful New Year ahead! 
We look forward to keeping you company as we navigate this 2021 with renewed energy and awareness. We are ready to sail off towards our destination – grateful for the gift of life and committed to keeping our fellow sailors safe and healthy on this journey.
COVID-19: PASC21 Conference format still open
We would like to provide an update on the plans for the PASC21 Conference (July 5 to 8, 2021), which will combine content from the postponed PASC20 together with new contributions. Because of the uncertainty of the current situation, the format of the conference is still to be determined.We are considering hosting PASC21 as a hybrid or fully-virtual event, and are currently in a phase of evaluation that will lead us to an informed decision on the final event format.
Prospective PASC21 speakers whose contributions have already been confirmed for presentation in July 2021 (contributions rolled over from PASC20) have been invited to participate in a survey about the possibility of organizing the conference as either a hybrid or fully-virtual event. We acknowledge the wide variety of sensitivities and personal circumstances on this topic. We are grateful for the concerns and input that you shared, and will be considering these points as we move forward. The situation itself is fast evolving and we welcomed the unexpected news of the vaccines at the end of last year. For this reason, we will be surveying our prospective audience at least once more before taking a final decision.
In the event of a hybrid conference, attendees participating in person would be required to comply with safety measures according to governmental regulations, as well as with the health protection plan implemented by the organizing committee in collaboration with the University of Geneva and the local medical office.
As you can read on the conference website, the PASC21 Organizing Committee plans to communicate a decision on the format in March. The decision will be based on the response of prospective participants, an internal evaluation process, and the statistics related to the number of daily infections and hospitalizations.
Sponsorships will support event format
We would like to take this opportunity to thank the organizations who already confirmed their sponsorship for PASC21: the Faculty of Science of the University of Geneva, University of Geneva, ABSOLUT Distribution AG, Dalco AG, PSI, NCCR-MARVEL, and PRACE AISBL.
Their generous support will help us develop and strengthen our digitalization capabilities, as well as supporting the implementation of our health protection plan, should we be able to offer an in-person format as well.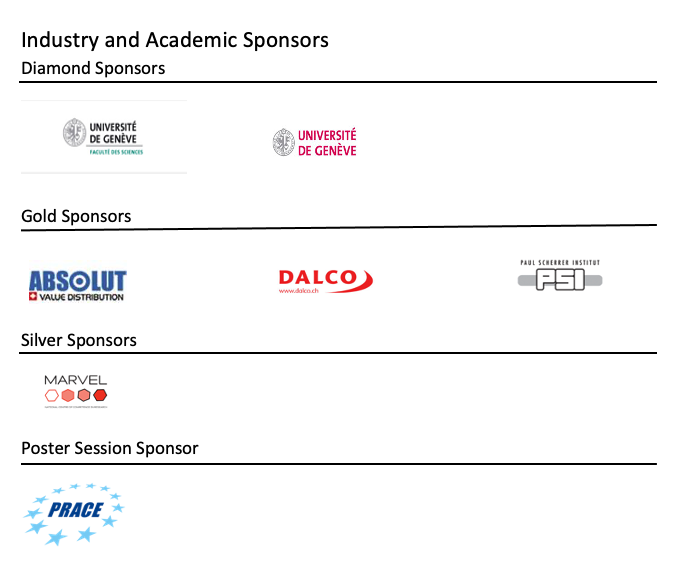 Sponsorship packages available for PASC21
The Organizing Team is pleased to invite additional organizations from industry and academia to take advantage of the sponsorship opportunities offered for the PASC21 Conference.
PASC21 offers a great chance for organizations to gain visibility at a national and international level and to network with key leaders in the fields of HPC simulation and data science.
The conference provides a global platform for participants from academia, research labs and industry to discuss the state-of-the-art in high performance computing simulation and data science. PASC21 brings together researchers from diverse scientific fields including chemistry, materials science, life sciences, physics, climate and weather, solid earth dynamics, engineering, computer science, applied mathematics, and emerging application domains. The conference builds on a successful history – with 430 attendees from 24 countries in 2019 – and continues to expand its program and international profile year on year.
Kindly contact the Organizing Committee at info@pasc-conference.org to secure your sponsorship package!