New computing systems at CSCS for MeteoSwiss
CSCS is providing HPC services to MeteoSwiss for the National daily weather forecast. Since 2007 the service has been provided by Buin (a Cray XT4) as main production system and Palu (a Cray XT3) as backup system.
Palu has been decommissioned at the end of 2009 because of his high operational costs. His functionality as fail-over system is now ensured by the processors upgrade of Buin from dual-core to quad-core and then by splitting the resulting system in two distinct parts (three and two racks). The second half of the system has been named La Dôle (located in the Jura mountains in Vaud, western Switzerland). This mountain has been selected mainly because MeteoSwiss on La Dôle is operating one of the three Swiss meteorological radars (also placed on Albis and Monte Lema).
Buin
264 AMD quad-core Opteron @ 2.3 GHz
2.1 TB DDR2 RAM (2GB/core)
4 TB System Raid
30 TB Storage (Lustre file-system)
7.6 GB/s interconnect bandwidth
Dôle
172 AMD quad-core Opteron @ 2.3 GHz
1.4 TB DDR2 RAM (2GB/core)
4 TB System Raid
15 TB Storage (Lustre file-system)
7.6 GB/s interconnect bandwidth
Even if Dôle is smaller than Buin, it still allows to compute the weather forecast in his full resolution respecting the times as required by the MeteoSwiss operational forecast suite.
In addition to the hardware upgrade, the operating system of the two systems has been also upgraded to the latest version of CLE and the scratch file-system is now provided by an external Lustre.
The next photo depicts the Cray team intent in upgrading Buin. This consisted in replacing all 436 dual-core processors with compatible quad-core processors, doubling the memory, and finally splitting the internal node interconnect to create two separate systems.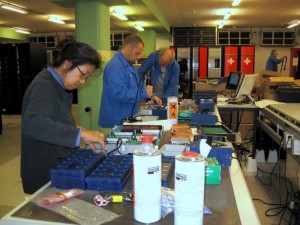 The next generation HPC system for MeteoSwiss will be then installed in 2012 after the moving of CSCS to its new location in Lugano. We expect next generation system to be able to double the current resolution targeting a 1Km grid resolution. The computational costs of doubling the grid resolution can reasonably be estimated in a factor of ~10 in respect of today computational requirements.
Example of weather forecast produced at CSCS
In the next pciture are represented examples of forecasted extreme meteo events. The reliability and  accuracy of the forecasted meteo situation is often critical in order to alert the population and take appropriate measures in order to reduce to a minimum the damages that can be made to persons and infrastructures.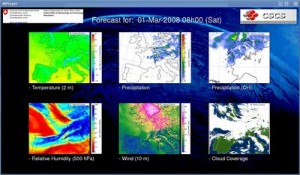 Video: Forecasted extreme meteo events
In particular being able to well estimate a correct value  of wind speed or rain quantities as early as possible (in some cases  already a few days ahead), is a must for decision makers which has to take the right protection measures.