Help hpc-ch dismantle booth #396 at 2:30pm: Get your furniture
Starting 2:30pm we invite you to help hpc-ch and CSCS staff to dismantle booth #396.
As the booth is made of cardboard you can get most of the movable furniture out of it, like chairs, cupboards, or iPad holder.
This will contribute to our sustainable strategy to reduce the environmental impact. The booth  of recycled materials has already been used twice and if you take it with you, will be used even longer.
The pieces are sturdy and light but will not fit in a regular luggage.
See how to fold a chair: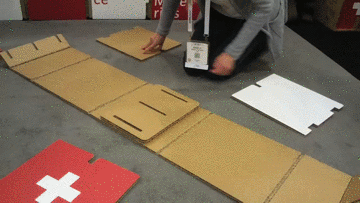 Or look at the full movie: