CSCS to Double Computing Power of «Monte Rosa»
Seattle, WA and Manno, Switzerland – May 17, 2011 – Global supercomputer leader Cray Inc.  announced that it has signed a contract with the Swiss National Supercomputing Centre (CSCS) to upgrade its current Cray XT5 system, nicknamed "Monte Rosa" to a Cray XE6 supercomputer. The Monte Rosa system at CSCS will be upgraded with Cray's Gemini system interconnect and the new AMD Opteron™ 6200 Series processors (code-named "Interlagos").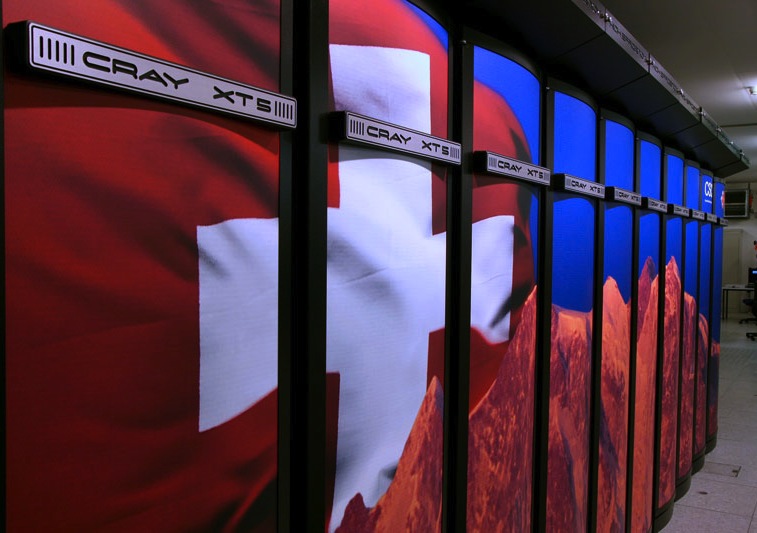 The upgrade is expected to be completed later this year, and will provide researchers and scientists with a Cray XE6 supercomputer with more than 400 teraflops of computing power. The upgraded system will equip the Swiss scientific and industrial community with the computing resources necessary to stay competitive on an international level as CSCS supports scientists working in diverse fields such as chemistry, physics, material sciences, climatology, geology, biology, genetics, experimental medicine, astronomy, mathematics and computer sciences.
Professor Dr. Thomas Schulthess, Director of CSCS said, "Monte Rosa, our Cray XT5 supercomputer at CSCS, is oversubscribed and we are very much looking forward to meeting this high user demand with the upgraded system this fall. Our experience with an early Cray XE6 test system is so exciting that I am certain we will be able to deliver an even better service to our users with the upgraded Monte Rosa machine, making them even more competitive at an international level."
Cray has a history of supplying the Centre with cutting-edge high performance computing technologies. CSCS is home to two Cray XT4 systems running operational numerical weather forecasts. CSCS was the first Cray customer in Europe to install a Cray XT3 supercomputer in 2005, the first Cray customer worldwide to install a Cray XE6 supercomputer in June 2010, and the Centre will be the first customer worldwide for Cray's next-generation Cray XMT system, which is expected to be delivered later this year.
"CSCS is one of the world's premier high performance computing facilities, and we are proud of the successful relationship we have developed with CSCS by providing Swiss scientists with Cray's most advanced supercomputing technologies," said Dr. Ulla Thiel, Cray vice president, Europe. "The Monte Rosa upgrade and the science program HP2C underline the leadership role of CSCS, and we are honored that Cray continues to play a crucial role for CSCS and its HPC user community."
The current upgrade is part of a series of initiatives in Switzerland to foster high performance computing in science and engineering. Significant investments have been made and are planned by the Federal Council of Switzerland for the development of applications that run at scale and make efficient use of the next generation of supercomputers. This is the goal of the Swiss Platform for High-Performance and High-Productivity Computing (HP2C), which is jointly operated by CSCS and the Institute for Computational Sciences at the University of Lugano.
The Cray XE6 supercomputer combines Cray's Gemini system interconnect with powerful AMD Opteron™ processors and is designed to bring production petascale computing to a new and expanded base of HPC users. Fully upgradeable from the Cray XT5 and Cray XT6 line of supercomputers, the Cray XE6 system delivers improved interconnect performance and features additional enhancements such as improved network resiliency, a mature and scalable software environment and the ability to run a broad array of ISV applications with the latest version of the Cray Linux Environment. This collection of industry-leading features provides Cray XE6 users with a supercomputing system that combines true scalable performance with production reliability.