Call for Presentations & Participation: Infiniband Workshop – Lugano 2010
We are glad to announce the call for participation for an Infiniband workshop jointly organized by Mellanox and CSCS in Lugano (March 15-17 2010).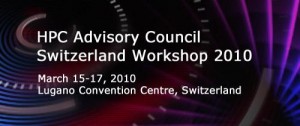 The workshop will be dedicated to InfiniBand training – InfiniBand architecture, hands-on training, advanced features, fabric management, and more. This is an excellent training and education opportunity for HPC IT professionals. The conference is free. Registration is required.
For registration information please click here.