AMD Ships First "Bulldozer" Processors to CSCS and other High End Installations
This week AMD announced the shipment of  the first processors based on its new x86 "Bulldozer" architecture to CSCS and other supercomputer centers. The processors will be used to upgrade the Monte Rosa supercomputer from a Cray XT5 to a Cray XE6 in October.
AMD announced on his web pages that "The first parts off the line were 16-core 'Interlagos' parts. We expect to be launching 'Interlagos' in Q4, a little later than we had hoped, but still in time for server deployments in 2011."
Cray  announced that a number of customers with Cray XE6 supercomputers will update their systems with Interlagos processors.  The processors in the picture above are most likely destined for one of those massive systems that will be used for supercomputing tasks like weather modeling or energy research. Such customers as CSCS – the Swiss National Supercomputer Center, and the University of Edinburgh have all signed up to upgrade their  Cray XE6 supercomputers for their research needs.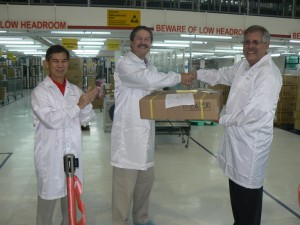 Here, KY Wong (left) and Marshall Kwait (right) pass the first set of Interlagos processors to Joe Fitzgerald of Cray.